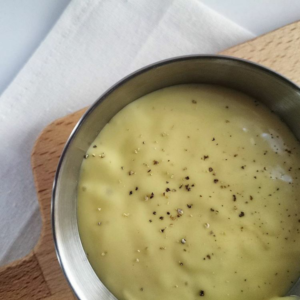 Klassikeren der god at have i sit repertoire, den er nemmere at gå til en en bearnaisesauce, men smager mindst lige så godt.
HJEMMELAVET HOLLANDAISESAUCE
2 pers.
2 Æggeblommer
2 spsk. Citronsaft
125 g Smør
Salt og Peber
Smelt smørret ved lav varme, så det skiller og danner bundfald. Undlad at røre i det. Vi vil kun have et der er på toppen.
Pisk æggeblommer og citronsaft sammen i en skål over vandbad. Vandet i gryden under skålen skal kun lige dampe og afgive varme, for varmt og æggeblommerne bliver til røræg i stedet for sauce.
Tilsæt langsomt smørret i en tynd stråle, ikke bundfaldet! Pisk kraftigt imens til saucen tykner.
Smag til med salt, peber og evt. mere citronsaft.
Server saucen til bl.a. Eggs Benedict eller en saftig laksefilet.