Corn Chowder with Bacon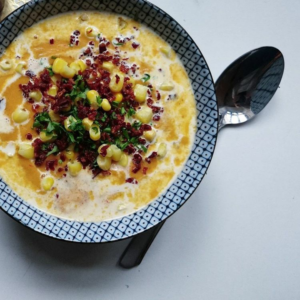 En udgave af den amerikanske Corn Chowder, hvor suppen blendes og derefter tilføjes flere grøntsager som crunch. Varmende på de kolde dage mens vi venter på forår.
MAJSSUPPE MED BACON
2 pers.

140 g Bacon
1 Løg, finthakket
1 Bagekartoffel, skåret i små tern
2 stilke Bladselleri, finthakket
100 g Gulerod, finthakket
1 Rød Peber, finthakket
350 g Majs
1 tsk Timian
2 dl Vand
150 ml. Fløde
15 g Smør
Hakket Persille
Steg baconen sprød og tag halvdelen fra.
Tilsæt løg, bladselleri, kartoffel, 70 g gulerod, 3/4 af den røde reber og svitz til grøntsagerne er bløde uden at have taget farve.
Tilsæt 250 g majs, timian og vand.
Lad det hele koge til grøntsagerne er møre.
Blend og sigt for at gøre suppen glat.
Tilsæt resten af gulerødderne, rød peber og majs og kog i 10 min.
Rør fløde og smør i, smag til med salt og peber.
Server med ristet bacon og persille.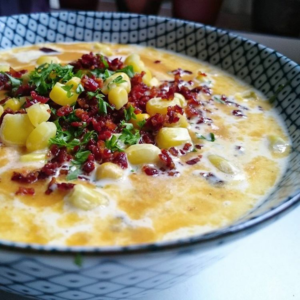 ---
---